Chic and casual, contemporary and timeless: the Monte-Carlo Bay Hotel & Resort is a daring fusion of styles and atmospheres. From the rooms, the Mediterranean stretches as far as the eye can see. Three restaurants, including The Blue Bay, a sandy lagoon, a spa Cinq Mondes and a bar: a resort dedicated to lightness, pleasure and celebration!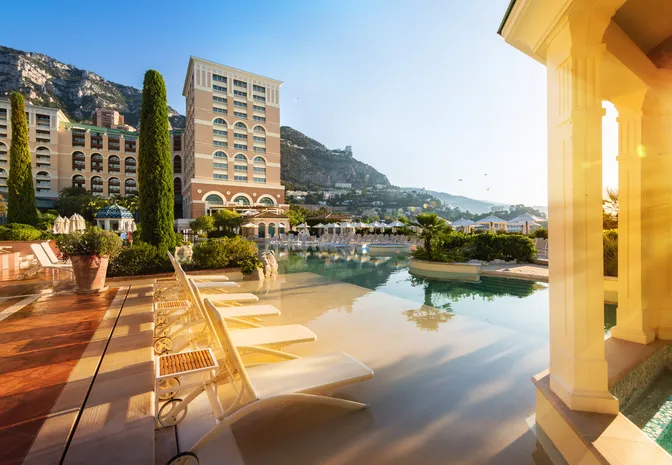 Get ready for a little taste of paradise! On the peninsula, 4 hectares of gardens feature waterfalls, solariums, a pool and a turquoise sandy-bottom lagoon that looks like a beautiful oasis.
For Michelin-starred cuisine and sparkling tables, try The Blue Bay run by Marcel Ravin and offering Caribbean and Mediterranean culinary delights. His creations are bold and innovative. At L'Orange Verte, his bistronomic menu is inspired by his travels. In season, the terrace of Las Brisas offers fun, delicious cuisine in the sun.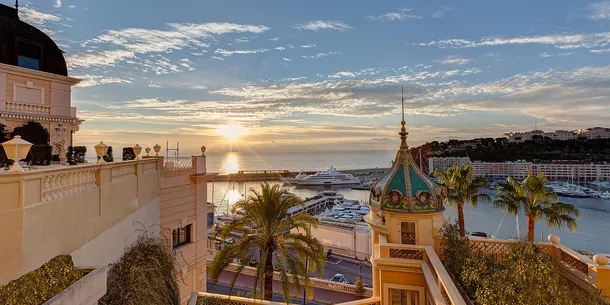 For an elegantly designed cocktail bar with a lounge and musical atmosphere, signature cocktails and a breathtaking view, The Blue Gin is the place to go. Indulge your senses at the spa Cinq Mondes, and enjoy the drugstore, hairsalon, fitness centre, business centre and more: the Monte-Carlo Bay Hotel & Resort satisfies your every need.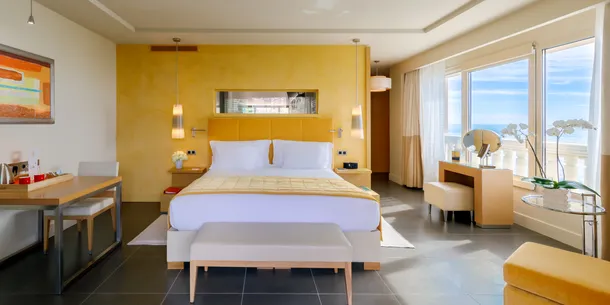 Chic et décontracté, contemporain et intemporel : le Monte-Carlo Bay Hotel & Resort est une audacieuse fusion des styles et des ambiances. Depuis les chambres, la Méditerranée s'étend à perte de vue. Trois restaurants dont Le Blue Bay, un Lagon à fond de sable, un spa Cinq Mondes et un bar : un Resort placé sous le signe de la légèreté, du plaisir et de la fête !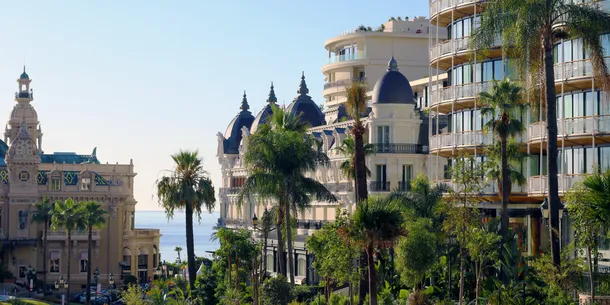 Un petit goût de paradis… Sur une presqu'île, ses 4 hectares de jardins qui mêlent cascades, solariums, Piscine et lagon turquoise à fond de sable, lui donnent l'allure d'une oasis généreuse.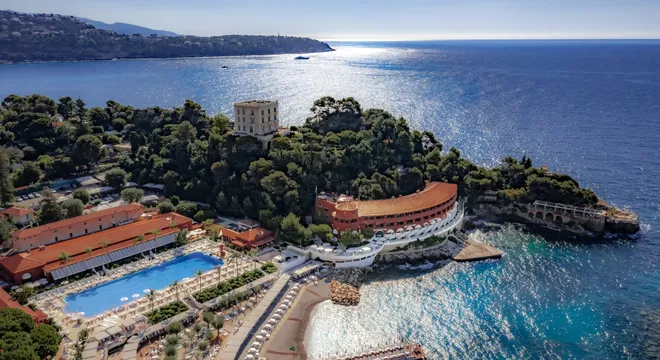 Un restaurant étoilé & des tables qui pétillent… Aux commandes du Blue Bay, le chef Marcel Ravin conjugue trésors culinaires caribéens et méditerranéens. Ses créations riment avec audace et nouveauté. À L'Orange Verte, sa carte bistronomique s'inspire de ses voyages. En saison, la terrasse de Las Brisas déroule une partition culinaire, conviviale et ensoleillée.

Un bar à cocktail design… Ambiance lounge & musicale, cocktails signature et vue à couper le souffle : le Blue Gin est une merveille. Plaisir des sens au spa Cinq Mondes, salon de coiffure, drugstore, salle de fitness, business center : le Monte-Carlo Bay Hotel & Resort satisfait toutes les envies.
L'exclusivité d'un Resort pour vivre plus intensément l'expérience Monte-Carlo
L'expérience du luxe et de la douceur de vivre monégasque. Les meilleures offres du moment de Monte-Carlo Société des Bains de Mer sont autant d'occasions de vivre un séjour riche en émotions et sensations.
Experience luxury and la dolce vita, Monaco style. Take advantage of special offers for the Monte-Carlo Société des Bains de Mer for a relaxing, vibrant experience.
Booking / Réservations : + 377 98 06 20 00 Contact us Adresse : 40 Av. Princesse Grace, 98000 Monaco https://www.montecarlosbm.com/en/hotel-monaco/monte-carlo-bay-hotel-resort
Photographs
Press Center of Monaco
Archives ACM – J.M. Follete / M. Alesi
Sébastien Darrasse
Monte-Carlo Press – Photographies Olivier Almondo
Monte-Carlo Country Club
Théâtre Princesse Grace
The mannequins are dressed by ESCADA and ESCADA Sport,
FACONNABLE,
KENZO HommeLOLITA Accessories are provided by local shops
CIRIBELLI and Louis VUITTON.
Translation
Photographers
Olivier Almondo
Giacomo Bretzel
Jean-Pierre Belzit
Henk Callens
Laurent Carte
Yann Coatsaliou
Georges Coiron
Sébastien Darasse
Gilles De Tonge
Henri Del Olmo
Stéphane De Sakutin
Alain Dovifat
Bruno Fabbris
Frank Follet
Jean-Benoît Héron
Ralph Hutchings
Marcel Jolibois
Marc Lacroix
Marc Laurin
Jean-Jacques Liégeois
Jacques L'Héritier
Nicolas Izarn