Paris plus belle ville du monde, Tour Eiffel, le Moulin Rouge…
Le Moulin Rouge, une institution chez Riviera Beach® Magazine nous avons eu l'honneur de pouvoir assister au spectacle Féerie, c'est l'un des établissements et monuments les plus photographiés de Paris. Le célèbre cabaret parisien, fondé en 1889, a traversé l'histoire sans prendre une ride.
Bâti par deux génies des affaires en 1889, l'histoire du Moulin Rouge est tumultueuse. Un peu d'histoire…
Lieu de fêtes, de rencontres, où artistes, bourgeois et classes populaires se côtoient, le Moulin Rouge évolue au fin des années, il fait aujourd'hui salle comble sept jours sur sept.
Au pied de la butte Montmartre, ouvert 365 jours par an, avec ses plumes, paillettes et décors fastueux, le Moulin Rouge fascine toujours plus de 600 000 spectateurs par an.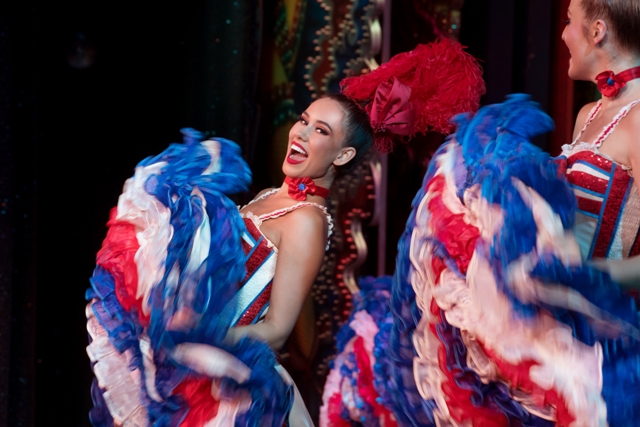 C'est le deuxième monument le plus visité à Paris après la Tour Eiffel.
C'est l'un des plus célèbres cabarets au monde. Au pied de la butte Montmartre, le Moulin Rouge clignote et rayonne. Fondé en 1889 par Joseph Oller, homme de spectacle originaire de Catalogne et Charles Zidler qui possédaient déjà l'Olympia, cet établissement mythique a vu défiler des millions de spectateurs venus du monde entier, des stars internationales dont l'inoubliable Mistinguett et des revues mythiques dont Cancan, Frou-Frou, Frisson, Fascination…
Ça c'est Paris !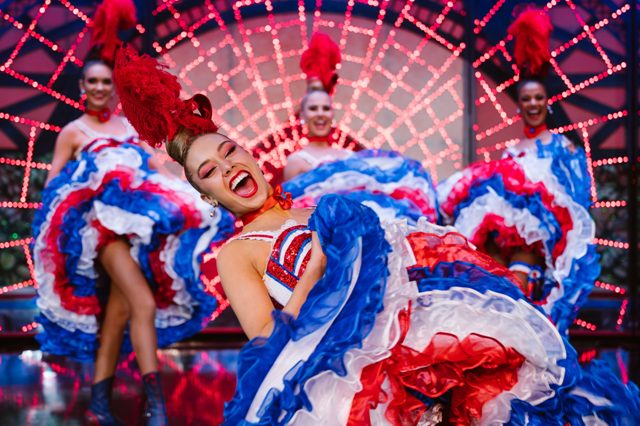 On se presse pour découvrir sa célèbre façade… rouge, ses ailes qui tournent, sa salle somptueuse et sa fantastique revue à grand spectacle. Quel retentissement international avec son mythique French Cancan qui était déjà dansé au Moulin Rouge en 1889, les grandes revues de Music-hall comme Frou-Frou, Frénésie et Formidable et, bien entendu, les prestations de la grande Mistinguett, l'inoubliable. Et l'engouement continue. Réservez vos billets pour le Moulin Rouge et sa revue « Féérie », pour une soirée magique, un spectacle de très grande qualité et une ambiance festive unique au monde. Un rendez-vous à ne pas manquer si vous venez à Paris.
Temple de la fête et du luxe.
Le 6 octobre 1889, le Moulin Rouge ouvrait ses portes sur un monde de féerie, de paillettes et de fête. Ses deux fondateurs avaient émis le vœu de faire du nouvel établissement de la place Blanche le « premier palais de la femme, le plus grand, le plus élégant et le plus luxueux des temples de la danse ». Ce somptueux Jardin de la Reine Blanche, voit déferler une foule qui se retrouve sur la piste de danse, dans la galerie d'Art, à dos d'âne… Pari réussi, 133 ans plus tard, le Moulin Rouge reste l'emblème de la fête et des nuits parisiennes.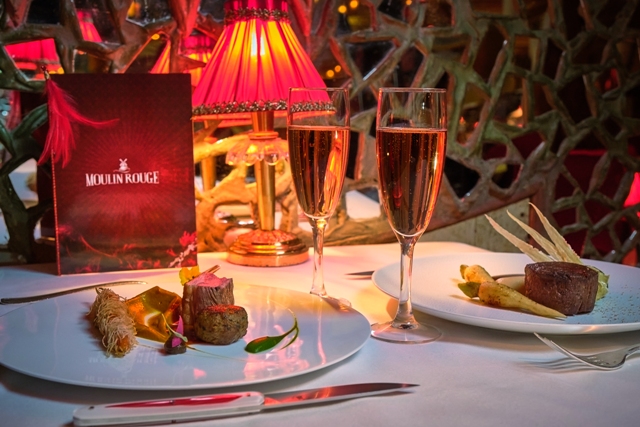 Une salle et une ambiance mythiques
La magie opère dès que l'on entre dans le Bal du Moulin Rouge. Petites lampes rouges sur les tables et atmosphère feutrée, l'ambiance du Moulin Rouge n'est à nulle autre pareille. Le temps s'arrête dans cette salle de style Belle Époque, avec ses colonnes Morris, ses affiches d'époque, ses fresques, ses lampions, ses jeux… Assurément, Paris sans le Moulin Rouge ne serait plus Paris !
Papilles, paillettes et bulles
Pour vivre une expérience complète, optez pour le dîner avant le spectacle au son de l'orchestre du Moulin Rouge. Le maître d'hôtel vous ouvre les portes dès 19h. Le chef Arnaud Demerville renouvelle sa carte à chaque saison avec des plats français traditionnels revisités. Sa brigade de 40 personnes maîtrise à merveille les différents métiers de bouche pour une gastronomie festive. Le Moulin Rouge a obtenu le titre prisé de  » Maître Restaurateur  » et fut le premier cabaret à figurer dans le guide gastronomique Gault & Millau. Et tout cela accompagné de bulles de champagne ! Un champagne qui continue à couler et pétiller durant le spectacle.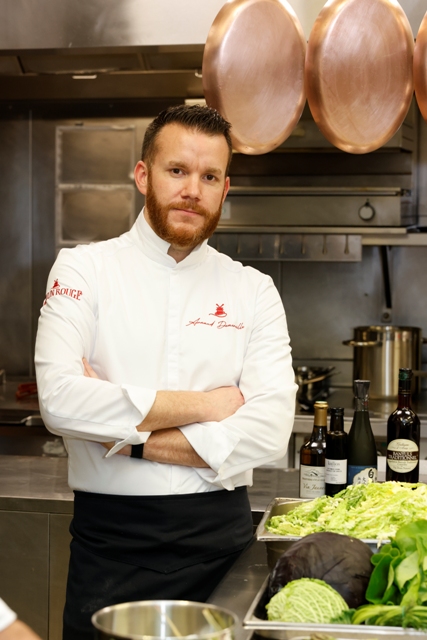 La revue Féerie remporte un vif succès : A la fois moderne dans ses costumes, ses musiques et ses chorégraphies c'est de surcroît dans la tradition du Moulin Rouge.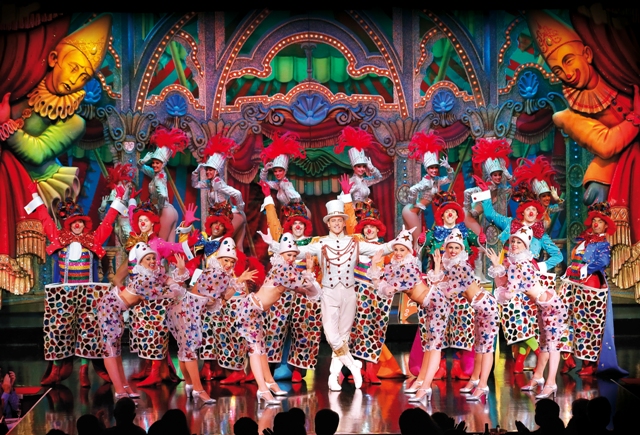 Venez vivre et partager une soirée dans un cadre d'exception, en famille, entre amis… ou en amoureux. Chaque soir, un monde de rêve entre en scène. La revue actuelle, Féerie, est un enchantement ! Décors somptueux, musiques entraînantes et 60 danseuses et danseurs du monde entier qui resplendissent en costume de plumes, strass et paillettes chatoyantes. Les 4 grands tableaux s'enchaînent, plus éblouissants les uns que les autres, ainsi que les attractions aux numéros fascinants, sans parler du clou du spectacle, l'unique, l'incontournable et mondialement connu French Cancan ! La revue Féerie émerveille d'un bout à l'autre du spectacle. Et l'on en ressort en fredonnant des airs joyeux et le sourire aux lèvres. C'est un festival d'émotions et une expérience unique pour une soirée inoubliable.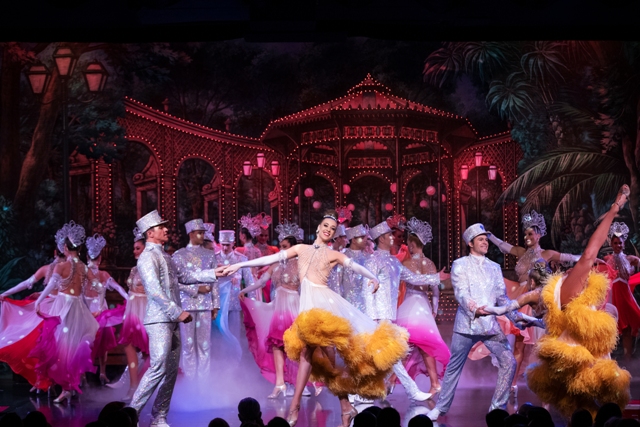 Tout le personnel est charmant, d'ailleurs une dédicace à Jean-Paul Maître d'hôtel venu en 1982 par hasard et jamais reparti sourire bonne humeur sens du service exemplaire, chez Riviera Beach® Magazine nous sommes restés sans voix.
Le déplacement valait le coup depuis Saint Tropez. Établissement et spectacle vraiment grandiose & Féerique !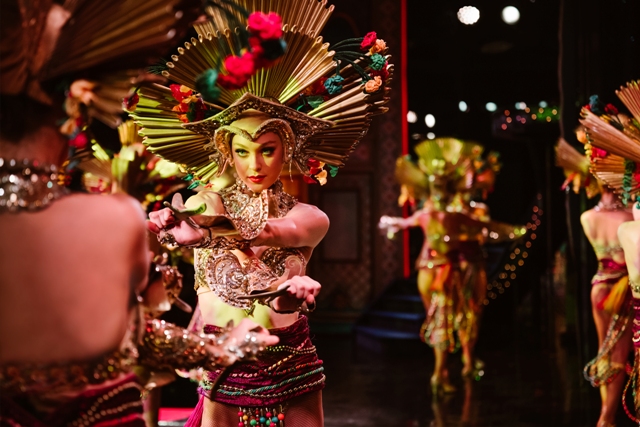 Paris most beautiful city in the world, Eiffel Tower, Moulin Rouge…
The Moulin Rouge, an institution at Riviera Beach Magazine we had the honor to attend the show Féerie, is one of the most photographed establishments and monuments in Paris. The famous Parisian cabaret, founded in 1889, has gone through history without a wrinkle.
Built by two business geniuses in 1889, the history of the Moulin Rouge is tumultuous. A little history…
Place of parties, meetings, where artists, bourgeois and popular classes mix, the Moulin Rouge evolves at the end of the years, it makes today full house seven days a week.
At the foot of the Montmartre hill, open 365 days a year, with its feathers, sequins and sumptuous decorations, the Moulin Rouge still fascinates more than 600,000 spectators per year.
It is the second most visited monument in Paris after the Eiffel Tower.
It is one of the most famous cabarets in the world. At the foot of the Montmartre hill, the Moulin Rouge flashes and shines. Founded in 1889 by Joseph Oller, a showman from Catalonia, and Charles Zidler, who already owned the Olympia, this mythical establishment has seen millions of spectators from all over the world, international stars such as the unforgettable Mistinguett, and mythical revues such as Cancan, Frou-Frou, Frisson, Fascination…
That's Paris!
One rushes to discover its famous facade… red, its wings which turn, its sumptuous room and its fantastic review with great spectacle. What an international repercussion with its mythical French Cancan which was already danced at the Moulin Rouge in 1889, the great Music-hall revues like Frou-Frou, Frénésie and Formidable and, of course, the performances of the great Mistinguett, the unforgettable. And the craze continues. Book your tickets for the Moulin Rouge and its revue « Féérie », for a magical evening, a show of great quality and a festive atmosphere unique in the world. An appointment not to be missed if you come to Paris.
Temple of celebration and luxury
On October 6, 1889, the Moulin Rouge opened its doors to a world of enchantment, glitter and celebration. Its two founders had vowed to make the new establishment on the Place Blanche « the first palace of women, the largest, most elegant and most luxurious temple of dance ». This sumptuous Jardin de la Reine Blanche, sees a crowd of people on the dance floor, in the art gallery, on donkeys… Successful bet, 133 years later, the Moulin Rouge remains the emblem of the party and the Parisian nights
A mythical room and atmosphere
The magic happens as soon as you enter the Moulin Rouge Ball. Small red lamps on the tables and a hushed atmosphere, the atmosphere of the Moulin Rouge is like no other. Time stands still in this Belle Époque style room, with its Morris columns, its period posters, its frescoes, its lanterns, its games… Surely, Paris without the Moulin Rouge would not be Paris anymore!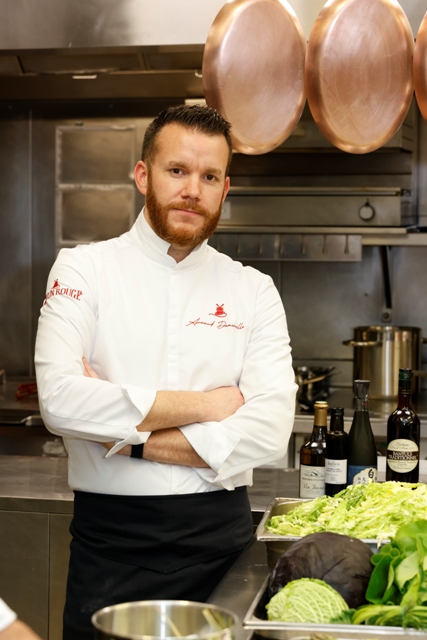 Glitter, glitter and bubbles
For a complete experience, opt for dinner before the show to the sound of the Moulin Rouge orchestra. The maître d' opens the doors at 7pm. Chef Arnaud Demerville renews his menu each season with traditional French dishes revisited. His brigade of 40 people masters the various culinary trades for a festive gastronomy. The Moulin Rouge has obtained the prized title of « Master Restaurateur » and was the first cabaret to be listed in the Gault & Millau gastronomic guide. And all this accompanied by champagne bubbles! A champagne that continues to flow and sparkle during the show.
The Féerie revue is a great success: At the same time modern in its costumes, its music and its choreography it is in the tradition of the Moulin Rouge.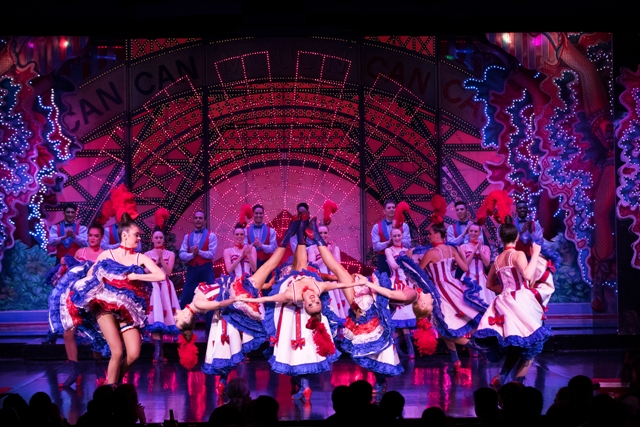 Come and share an evening in an exceptional setting, with family, friends… or as lovers. Every evening, a world of dreams comes to life. The current revue, Féerie, is an enchantment! Sumptuous decorations, lively music and 60 dancers from all over the world who shine in feathers, rhinestones and shimmering sequins. The 4 big scenes follow one another, each more dazzling than the last, as well as the attractions with fascinating numbers, not to mention the highlight of the show, the unique, unmissable and world-famous French Cancan! The Féerie revue amazes from one end of the show to the other. And you come out humming happy tunes with a smile on your face. It is a festival of emotions and a unique experience for an unforgettable evening.
All the staff is charming, moreover a dedication to Jean-Paul Maître d'hôtel who came in 1982 by chance and never left smiling good humor sense of exemplary service, at Riviera Beach Magazine we remained speechless.
The trip was worth it from Saint Tropez. Establishment and show really grandiose & Fairy !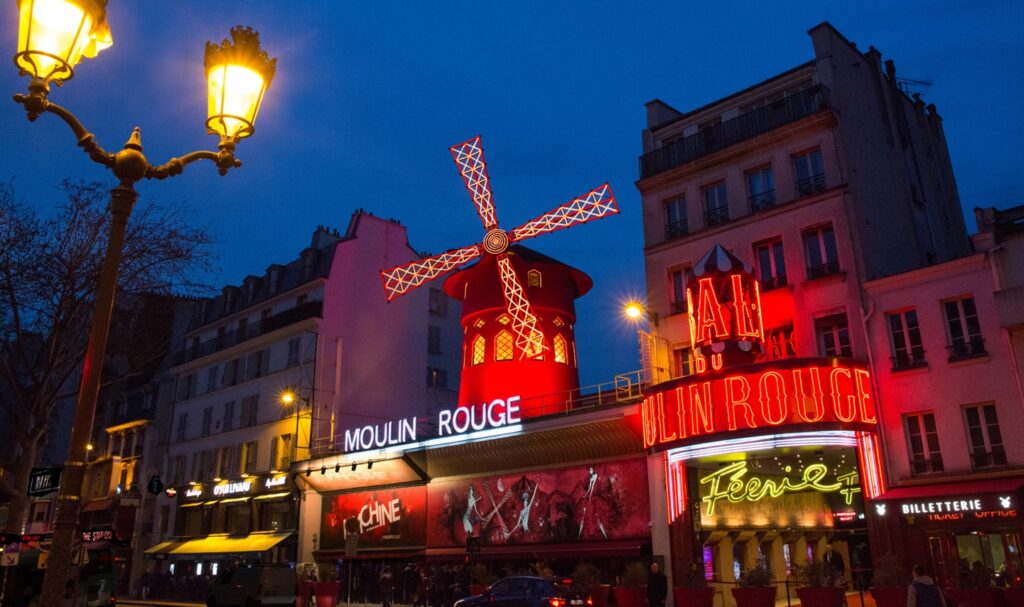 Crédit photo Facade Moulin Rouge (2 lamp) PF ©Moulin Rouge-D.Duguet Fournit par le Moulin Rouge Paris French Cancan © Philippe Wojazer French Cancan © Sandie Bertrand
Le Moulin Rouge 82 Bd de Clichy, 75018 Paris +33 (0)1 53 09 82 82 Vous souhaitez avoir des informations à propos du Moulin Rouge ? N'hésitez pas à nous écrire.
information@moulinrouge.fr https://www.moulinrouge.fr/
Riviera Beach® Party Magazine & Event Radio to promote the emblems of the French Riviera on the national and international scene with French Quarter Magazine Las Vegas.
★Riviera Beach® Magazine & Radio player on line 24/24 https://rivierabeachmagazine.com/
★Jaguar Land Rover Toulon partenaire premium de Riviera Beach® Magazine & Event rivierabeach.vip@gmail.com
★Groupe : Riviera Beach sortie paca : https://www.facebook.com/groups/283004515069557/
★Page officielle : https://www.facebook.com/RivieraBeachMagazine/
★instagram : https://www.instagram.com/riviera_beach_yann_bernard/
French Quarter Magazine Las Vegas : https://frenchquartermag.com/
@jaguar_landrover_toulon https://www.facebook.com/actionautomobiletoulon
Av. du Reganas, 83130 La Garde Téléphone : 04 94 14 06 06